Are you looking for a smartwatch that can keep up with your active life? Whether you're a fitness enthusiast or just want to stay connected without having to pull out your phone every time, there are plenty of great options to choose from. From the Apple Watch to Samsung's Gear S3, here are the best smartwatches for fitness and connectivity.
Key Features of the Best Smartwatches for Fitness & Connectivity
Smartwatches have become a must-have for fitness & connectivity. The best smartwatches boast an array of features making them the perfect companion for fitness & connectivity. The features of the best smartwatches include GPS, heart rate monitoring, step tracking, calorie counting, sleep tracking, and more. They also come with a range of apps to help you stay connected and motivated. Some of the best include voice-activated assistants, music streaming, notifications, and even contactless payments. With so many features, you can get the most out of your fitness & connectivity goals.
Comparing Apple & Samsung Smartwatches
When it comes to smartwatches, it's tough to decide between Apple and Samsung. Both offer great fitness and connectivity capabilities, but the differences in design and features can be hard to compare. Apple's Apple Watch Series 5 is the latest device, and it has a sleek design with an OLED display, heart rate monitor, and accelerometer. Samsung's Galaxy Watch 3 also has a modern design, but it has a larger display and includes an ECG monitor. Both models offer a range of features, such as notifications, music streaming, and various fitness-tracking apps. Ultimately, it comes down to personal preference. Both models have their benefits and drawbacks, so it's best to do your research and make the decision that is right for you.
Battery Life & Performance When Exercising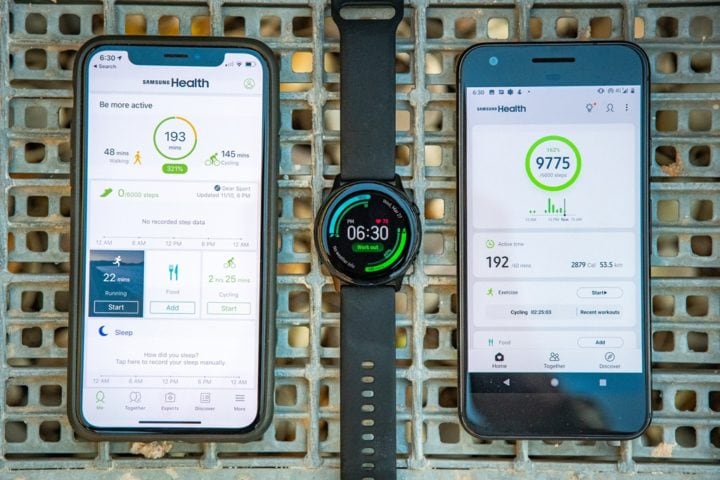 When it comes to finding the perfect smartwatch for fitness, battery life and performance are key. Smartwatches like the Apple Watch 5 and Samsung Galaxy Watch3 offer great battery life and performance when exercising. With the Apple Watch 5, you'll get up to 18 hours of battery life while tracking your fitness goals. The Samsung Galaxy Watch3 also offers great battery life and performance with its powerful battery, giving you up to two days of use on a single charge. Both of these watches offer great connectivity, making it easy to stay connected no matter where you are. Plus, these watches are great for fitness tracking and can help you reach your fitness goals. So if you're looking for a smartwatch that offers great battery life, performance when exercising, and connectivity, the Apple Watch 5 and Samsung Galaxy Watch3 are the perfect choice.
Apps & Features Available on Smartwatches
Smartwatches have come a long way and now offer a plethora of apps and features. Fitness apps such as Endomondo, Runkeeper, and Strava are available for tracking your workouts, and you can even monitor your heart rate with most models. You can also customize your watch face, get notifications from your phone, and access music streaming apps like Spotify and Deezer. With accessories like a GPS, you can track your location and explore new routes. Smartwatches also give you the ability to stay connected with message and call notifications, as well as access to social networks such as Twitter, Instagram, and Facebook. As such, you can stay up to date with your friends and family, no matter where you are.
Benefits of Using a Smartwatch for Fitness & Connectivity
Smartwatches are a great way to stay connected and keep track of your fitness goals. With the technology available today, they offer a variety of features that can help you reach your goals and stay connected to your friends and family. Smartwatches can keep track of your heart rate, steps taken, and calories burned, as well as provide GPS tracking and notifications for incoming calls, messages, and emails. Additionally, they can provide you with reminders to stay active and provide access to music and other apps to help motivate you during your workout. Smartwatches can even be used as a fitness coach, guiding you through your workouts and providing you with personalized tips and advice. All of these features make a smartwatch an invaluable tool for staying connected and reaching your fitness goals.