Are you passionate about both Hollywood and environmental activism? Then you are in the right place! Today, let's take a look at 5 Hollywood stars who are also environmental activists. From Leonardo DiCaprio to Emma Watson, these celebrities have used their fame to draw attention to important environmental causes, showing us that anyone can make a difference! So let's dive in and find out how these Hollywood stars are making an impact and inspiring others to do the same.
Leonardo DiCaprio
Leonardo DiCaprio is a well-known Hollywood star and environmental activist. He has been vocal about the climate crisis and has taken a stand against environmental destruction. He has been involved in various environmental initiatives, such as the Leonardo DiCaprio Foundation, which works to protect the planet's biodiversity and promote renewable energy. He also produced documentaries such as "Before the Flood" and "Cowspiracy," to help raise awareness of the environmental issues we face. In addition, DiCaprio has used his platform to speak out against the illegal wildlife trade. His passion and commitment to environmental activism is inspiring and has helped to create a global dialogue about our planet's future.
Mark Ruffalo
Mark Ruffalo is an awesome Hollywood star and environmental activist. He is a passionate advocate for renewable energy and climate policy, as well as a key figure in the fight against fracking. He is also a committed advocate for clean water and sustainable agriculture, and has been a vocal opponent of the Keystone XL pipeline. Ruffalo is also a board member of the Water Defense, a non-profit organization that works to protect clean water from pollution and other forms of contamination. His commitment to environmental causes is inspiring, and his ability to use his celebrity platform to raise awareness and take action is admirable.
Harrison Ford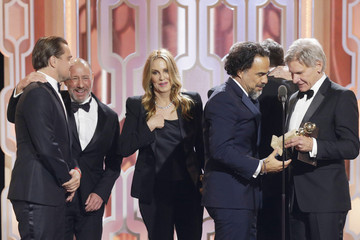 Harrison Ford is an American actor and environmental activist, who has been advocating for environmental protection since the early 1980s. He is a board member of Conservation International and has been a public advocate for other environmental organizations, such as the Natural Resources Defense Council and the World Wildlife Fund. Ford has used his celebrity status to speak out on climate change, pollution, deforestation, and other environmental issues. Ford has also been involved in campaigns to raise awareness of global warming, and he has spoken out about the dangers of over-fishing and illegal whaling. He is a leader in the fight to protect our planet and its resources. His commitment to environmental conservation and sustainability is inspiring, and he is a role model for today's young people.
Edward Norton
Edward Norton is a Hollywood star that has been taking an active role in environmental activism for many years. He is the founder of the environmental organization, Crowdrise, and is a passionate advocate for sustainable development and green energy. He has worked with the UN's Global Environmental Facility and has spoken at the World Economic Forum in Davos. He has also been involved in campaigns to reduce plastic waste and deforestation. He has a strong belief in the power of people to create change and has called on citizens to join him in taking action to protect the environment. His passion for sustainability has made him an international leader in the fight against climate change.
Adrian Grenier
Adrian Grenier is a Hollywood actor best known for his role as Vince Chase in the hit series Entourage. He's also an environmental activist and he's been actively involved in many green initiatives. He's the founder of SHFT, an online marketplace that promotes sustainable living and raises awareness about environmental issues. He also founded the Lonely Whale Foundation, which is focused on raising awareness about ocean conservation and protecting whales. In addition to his activism, he also uses his platform to promote the use of renewable energy sources and to encourage people to reduce their carbon footprint. Grenier is a passionate advocate for the environment and is dedicated to making the world a better place.